A time arrives in the life of every true seeker when it is not enough to simply believe in God. The greatest need is to know God.
Flower A. Newhouse
The Retreat
A 655-acre Nature Cathedral
Questhaven Retreat is a secluded nature preserve located in the coastal wilderness of San Diego County, providing a sacred setting for individuals and groups of all faiths to experience peace and renewal.
Sincere seekers visit throughout the year to harvest its energies and wisdom, prayerfully walk the labyrinth and trails, stay in one of the many cottages, and to draw closer to God in the beauty of nature.
The Training
The Way of Christian Mysticism
The Christward Ministry is a spiritual training center dedicated to sharing the esoteric Christian teachings as taught by Questhaven's founders, Flower and Lawrence Newhouse.
Following the path of Christian Mysticism, we strive for a direct experience of God through a deepening relationship with the Living Christ. Above learning, we emphasize living the Christward Way.
The Mystic
Flower A. Newhouse, Founder
Flower A. Newhouse is a well-known twentieth-century Christian mystic. She wrote and lectured extensively to reawaken humanity to the reality of the Living Christ, the Inner Worlds and the Angel Kingdom.
Her exceptional synthesis of inner perception and Christ-centered character was consecrated to the rediscovery of esoteric truth and the training of students in the way of Christian discipleship.
---
Sept. 26–28: Michaelmas Retreat 2014


Honoring the Angels
Let us commune with the reality of Angels,
and be open to the purity, the wonder,
the mystery and the almightiness
of their God-given life and purpose.
–Flower A. Newhouse
Friday, 26th
7:30 p.m.: Devotional Service
Please join us for a devotional service to honor the Angels with music, word and dance. This program features a dramatization, Seven Paths Upward, which explores the differences in our human temperaments and goals as we flow into conscious Life according to seven great Rays. Let us witness how our Guardian Angels work with us individually to help nurture and develop our highest expression for God according to our ray of unfoldment.

Click image to enlarge Saturday, 27th
9:00 a.m.: Friendship House
Welcome
Gratitude letter or poem to your Guardian Angel
Personal Attunement to the Angels through nature walks, mandala making, meditation, journaling and prayer.
12:00 p.m.: Friendship House
Potluck Lunch (please bring something to share)
Your personal attunement to the Angels continues
2 p.m.: Church of the Holy Quest
Music and Guided Meditation
4:00 p.m.: Labyrinth/Academy
Labyrinth walk
Sharing of day's events in the Academy
Sunday, 28th
8:30 a.m.: PanEuRhythmy near the Labyrinth
10:45 a.m. Church Service
Includes three sharings on Angels given by Reverends Lucy Wold, Miara Wiltshire, and Elizabeth Wood.
Overview of Angels by Rev. Lucy Wold
The Angels of Questhaven by Rev. Elizabeth Wood
Attuning to the Angels by Rev. Miara Wiltshire
A potluck luncheon will follow in Friendship House.
Love Offering (for all events) Limited Overnight Accommodations.
Michaelmas 2014 Flyer
Michaelmas 2014 Newsletter
---
Masters Silent Retreat 2014


Saturday, August 16th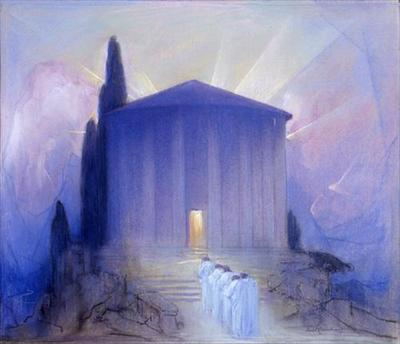 Practice the stilling of the entire self. You must command your body to be still, and your energies or nervous electrical impulses. Stillness, when commanded of the emotional nature, means restfulness and purity in that department. It is mental stillness which amounts to an emptying, a draining out your own thoughts where it is possible, which requires your greatest effort. When the mind is perfectly calm, and open and emptied of the negatives with which you might fill it, then it is a mirror for the soul to work upon and reflect through from its own superior height. You are attentive to the purpose of your concentrations. You will quiet yourself and liberate yourself in order that through emptying you can be filled from Our Wellsprings. The mind, therefore, will be in control of the whole man and yet will, as sentinel, point to the everlasting. There is a reason to be quiet and point to the everlasting. There is a reason to be quiet and attentive. The reason is attunement to the threshold of God Consciousness. Remind yourselves frequently of your reason and let the door open itself to release its power.
–The Wise and The Strong
The Masters' Purpose and Blessing Through Questhaven
There is a purpose behind all evolving life that calls for refining and perfecting. It is a spiral journey leading to mastery. A wonderful reality dawns with the knowing that there are humans who have achieved such perfection over their lower vehicles and personality-selves. They work with our Lord Christ to awaken humanity to the presence of God. These Masters also work with spiritual groups in various ways to deepen and inspire their highest ideals to come forth. Let us explore Their impetus behind Questhaven, for this is Their Work.
–Reverend Blake Isaac
Sharings from Attendees of the Masters' Silent Retreat
Each year the connection I feel with the Masters deepens. It was profound to read through my journals from previous years and see how true guidance really did come through for my life.
This retreat was an opportunity to go much deeper into oneself and connect to God through the wisdom of the Masters.
The whole weekend culminated in an inspired idea for a new direction to help release some old wounds for which I am deeply grateful.
The Path of the Masters
---
Vernal Retreat 2014


Exploring Divine Beauty in Nature and Art
"Take in everything before you and let your eyes be drenched with beauty, and as you love beauty in a reverent way it becomes a sacrament to you." –Flower A. Newhouse
A weekend of experiential events to increase our awareness of Beauty as an aspect of the Divine is an ideal preparation for our summer travels, both outwardly and inwardly.
FRIDAY – June 20 / 7:30 PM / Church of the Holy Quest
A unique meditative tour to the inner side of Earth's mountain regions as clairvoyantly observed by Flower Newhouse. Richard Boult, devoted student of Flower's and a well-traveled lover of nature, leads us on this holy trek, followed by an inspired sacred dance by Questhaven's Temple Dancers.

The Sacrament of Beauty
SUNDAY – June 22 – Church of the Holy Quest
The retreat concludes with our Sunday devotional service and a summarizing talk, "Reflections of Divine Reality–A Sampling of Beauty Expressed" by Rev. Jonathan Wiltshire. Service includes inspired gathering of music, art and reverent adoration of the Most High.

Reflections of Divine Reality: A Sampling of Beauty Expressed
---
Easter Retreat 2014


Easter Impressions from Those Gathered

The Lord Christ and the active influence of the Christ Spirit awakens us to the Divinity within man and draws us Christward.
– adapted from Christward by Flower A. Newhouse

Please enjoy these highlights and impressions from Easter Retreat

"The opening with the Angel Dance brought in such beauty and power. Each performer was overshadowed by an Angelic Host. At the end of the dance, I looked at the Christ portrait. In utter amazement, I saw a radiant Light that formed around the Christ and moved out to fill the entire Chapel with His blessing. The power was overwhelming and brought me to tears."

"For me last night's service was extremely powerful and humbling. Every aspect of the program was well done. I applaud and thank you for once again bringing Christ and the Inner Worlds closer."
"The Lenten Meditations began the rhythmic movement which wove the tapestry of Sacred Energy so gracefully revealed yesterday in all its Glory! Everything was impeccable, reflecting the love and lightness of Questhaven's provision of The Light! I give great thanks for the privilege of participating."
"I reside today in the richness of remembrance of all that took place on many levels. It is a memory and reflection of true wonder, fullness and beauty."
Easter Retreat Program

Wednesday Night Lenten Series

Easter Retreat Newsletter

Easter Retreat Highlights
---
Christmas Retreat 2013


From Our Hearts to Yours

A Merry Christmas blessing from our hearts to yours. These pictures and scenes highlight our preparation for Christmas 2013 at Questhaven Retreat.

Christmas Retreat Highlights from our Voice and Bell Choirs and Sacred Dancers are provided in our Inspiration Newsletter, with a Christmas Keynote for a New Year.

Christmas Keynote for a New Year
Much of this Christmas Retreat was inspired by a talk given by Rev. Flower A. Newhouse in 1955. You can download this talk here:

The Heart of Christmas
Flower Newhouse taught that the Christmas season gifts us with increased energies from higher worlds, sent to help raise our awareness of Divine Reality. This opportunity is fulfilled not in traditional stories, restrictive dogma, or even family gatherings, but rather in the empirical experience of meeting the Lord Christ. To know Him more fully is to experience love as the essence of Reality.
The value and scope of esoteric Christianity appears when we perceive how fully it explains variations, as well as other facts related to living, that cannot be answered by any other level of interpretation. We discover in this higher approach the practice of realizing God within us as well as around us, and try through love, humility and reverence to be at one with that Presence.
Flower A. Newhouse, The Collected Works, Vol II
---
Michaelmas Retreat 2013


Natives of Eternity–The Kingdom of Angels

Composer Richard Wagner received much of the inspiration for his music from his sensitive reception of heavenly concerts. As you experience his powerful The Ride of the Valkyries, observe powerful Warrior Angels with their absolute dedication to the Christ cleansing the atmosphere and doing battle against darkness and evil. Fireal or Inspirer Angels with Their fiery powers work on the Causative Level to inspire humans. Allow this great Angel music to bring you to higher levels of courage and power than you have ever experienced before.

One composer who caught the flow of the harmonies Angels sent out was the great Ludwig van Beethoven. Although he had many lives as a human, he was originally a nature deva, a being who evolves through service to the Nature Kingdom. He never quite came to balance between his deva and human lives, and he was often unhappy because he did not know exactly where he belonged

Beethoven's Ninth Symphony, which he wrote when he was deaf, was his most triumphant work. He overcame so much in giving this particular music to the earth. This music brings in Angels Serving the Holy Spirit. The Angels you will see are Awakener Angels, also called Remliel Angels. They work with us to overcome destructive habits of our personalities and ready our minds for expanded receptivity to the higher frequencies of the Inner Worlds. What an invaluable service these Awakener Angels perform for us because it is Their mantling that helps open the gate that allows us to develop our insight, intuition and creative perception. The colors of this music are a very Christ blue with parts of it becoming more electric blue.

Because of the breath-taking classical music of long ago, it is easy for us to assume that only composers from the past were able to tune in to Angels of Song, so you may be surprised to learn that modern composers also may bring through the inspiration of these great Angels. Flower says of The Sound of Music by Rogers and Hammerstein, "They must have been in attune with a true instructive music Angel because that's one of the best and most authentic nature recordings that I know. The whole thing is expressive primarily of devas' appreciation of mountains and the grandeur and majesty of nature." Witness the delight of nature beings with a beautiful deva in their mountain homeland.

Some humans in every century possess gifts that allow them to tune in to heavenly concerts. One of these gifted humans attuned to the higher spheres was composer César Franck who received great inspiration for the music he brought to earth that clearly reflects Angel messages. His deeply sacred Panis Angelicus brings to those who are able to see color through sound a true Christ-blue and a beautiful lavender. These colors weave in and out, never losing their own individual identity and having the effect of spiritualization upon us. Panis Angelicus brings to us the music of the Angels Serving our Lord Christ, such as Angels of Adoration, Song, Prayer, Healing and Angels of the Christ Presence.

What channels such musical masterpieces is the sixth sense of a composer who is sufficiently awakened to capture the strains of the Music of the Spheres. It is said by mystics that planets, stars and galaxies move in rhythm with the Music of the Spheres. Some composers tuning in to this glorious music will receive intimations of the work of the Angels of Destiny, who work directly with humans, including the exceedingly beautiful Angels of Birth and Angels of Death or Transition. Possessing unspeakable beauty and outshining love, Angels of Death administer an electrical force that severs the inner bodies from the physical form when the time comes for our incarnation to end. They so lovingly welcome each one of us to the long forgotten dimension of existence that is our true Homeland.

Death and Transfiguration, by Richard Strauss, was one of Flower's favorite musical pieces. She first heard this music when she was a young woman at the moment her grandmother was released from life. She did not recognize the melody until later when she was present at the deaths of others and realized that it accompanies us at the time of our transition to the higher worlds.
Were we spiritually awake we should observe the verdure of the earth peopled by beings, exquisitely small and dainty, moving in harmony with the soft, diffused music of the heavens.
Flower A. Newhouse
Michaelmas 2013 Flyer