A time arrives in the life of every true seeker when it is not enough to simply believe in God. The greatest need is to know God.
Flower A. Newhouse
June 19-21 VERNAL RETREAT–Plan to join us as we Travel with Inner Perceptiveness!
---
Easter Retreat 2015
Becoming Outposts of Consciousness For Christ
Christ is Risen! He is Risen Indeed! Thank you to all of you who joined us for Easter Retreat 2015!
It is this concentrating upon and loving and revering and following the real Lord Christ that enables the Christ nature to slip into us.
Flower A. Newhouse, Ash Wednesday, 1968
Easter's Coronation Newsletter
LENTEN AND EASTER TALKS
Lessons that have been impressed on Flower A. Newhouse
Wednesday Night Services
Feb 18 Ash Wednesday An Inner Understanding of Lent
Reverend Flower A. Newhouse
Feb 25 Outposts of Consciousness–Opportunity and Challenge of Growing Old Wisely
Rick Plant
Mar 4 Outposts of Consciousness–Be Forever Expectant of the Good
Karin Graybeal
Mar 11 Outposts of Consciousness–Never Count the Cost
Sarah Graybeal
Mar 18 Outposts of Consciousness–We Are to Express Spiritual Love as Widely as Possible
Richard Boult
Mar 25 Outposts of Consciousness–To Help Others Lighten Their Load and Climb
Laurel Rivera
Sunday Services
Feb 22 Outposts of Consciousness–Improving our Speaking and Thinking
Reverend Blake Isaac
Mar 1 Outposts of Consciousness–Facing Our Fears and Anxieties
Reverend Lucy Wold
Mar 8 Outposts of Consciousness–Cutting Through Our Chains and Fetters
Reverend Hal Lingerman
Mar 15 Outposts of Consciousness–Drawing Closer to God and Being Open to Him
Reverend Elizabeth Wood
Mar 22 Outposts of Consciousness–We Do Not Attain What We Want. We Attain What We Are
Reverend Miara Wiltshire
Mar 29 Palm Sunday In Christ's Way–Build an Altar, Pitch a Tent, Dig a Well
Reverend Blake Isaac
Apr 5 Easter Sunday Easter's Victory–Christ Risen Within Us
Reverend Jonathan Wiltshire
---
Questhaven Celebrates 75 Years!
1940-2015
This year is Questhaven's 75th Anniversary! In celebration, here are some of the plans and special events for this year.
Lent (beginning on Ash Wednesday, February 18)
A series of Sunday talks and Wednesday night classes exploring lessons that have been impressed upon our founder, Flower A. Newhouse.
Theme: Becoming an Outpost of Consciousness for Christ
Easter Retreat (April 3–5)
Featuring Holy Communion and a dance drama written by Flower A. Newhouse entitled Easter's Coronation–the view of Christ and His victory from the perspective of the Angel Kingdom.
A Questhaven Spiritual Trip to Europe (May 19–June 9)
A group of 30 travelers make their way through Germany, Austria, Italy and Switzerland, for Castles, Cathedrals and Lords of the Mountains.
Vernal Retreat (June 19–21)
Theme: Inner Perceptiveness
75th Anniversary Retreat (August 7–9)
Theme: Dedication and Gratitude
Michaelmas Retreat (September 25–27)
A Celebration of the Angel Kingdom
Christmas Retreat (December 18–21)
With a very busy year ahead, it is easy to get lost in the day-to-day activities and events. Let us remember that while the events are wonderful markers of the year, the real gold is in how we are learning to live in greater alignment with God.
As Flower was evolving from one incarnation to the next, she went through many varying experiences that helped prepare her for the founding of Questhaven. One of those was in the mystery schools with the Master Pythagoras. Beyond learning, the emphasis of that school was on living.
The Great Ones told Flower in 1950, addressing those who come to Questhaven, See to it that Truth channels you so that you can verify that to which you testify.
May this year find us finally gathering the over-ripening fruit on the spirit of being and live and verify all that we have been given. In that way, we truly will be the watchmen on earth for Christ and His great Hierarchy of Perfected Ones.
The Questhaven Story–A Saga of Triumph and Faith
Joy Day
Songs from the House of Pilgrimage
Flower A. Newhouse Biography by Dr. Stephen Isaac
---
Christmas 2014
Christ, The Magnet of Our Return
As Christmas approaches through the Advent season, we have an opportunity to draw even closer to our Lord Emmanuel, the Living Christ. His nativity is really the unfolding of our nativity through Him. Our Lord brings His influence upon our continual rebirth and transformation.
The days which precede and include Christmas shall be consecrated to the deepening of spiritual Love for all the Lives which God has created and the handiwork He has made. From the practice of such inward preparation, may we be filled with the spirit of peace, love, and of reverence for God. Then with clear-sightedness and accelerated intuition we shall approach Christ's day to testify through His inner cleansing.
Flower A. Newhouse
Nov 16 Christ Magnetizes God's Light in You–Rev. Hal A. Lingerman
The weeks of Advent offer everyone many accelerated opportunities to draw closer to the Lord Christ and all the Company of Heaven who are inspiring and encouraging us to waken all our God-given spiritual capacities.
Nov 23 Responding to the Starlight Rays of Our Soul–Rev. Blake Isaac
Flower A. Newhouse said "A soul that is active in us is dwelling in a wonderful world, a world of Light, a world of power and beauty and creativity such as we know nothing about in this dimension." Like a star to shine its reflections of God upon us, we need to learn to listen and respond to its rays of hope and promise. Let us explore how we can do this in ever greater ways.
Nov 30 Keeping Vigil: The Mystical Practice of Wakefulness–Rev. Jonathan Wiltshire
The word vigil is derived from Latin meaning wakefulness. It is more than staying awake, being on guard, or sitting up with one who is in need. Throughout the history of religion vigil has been an important aspect of the holy quest. It's a way to find our inner strength, to know divine intercession, to discover that silence is not empty. The Christmas season calls us to the silent night, the holy night, and vigil.
Dec 7 The Annunciation of Mary–Julie Hilt
And Mary said, My soul doth magnify the Lord, and my spirit hath rejoiced in God my Savior. For He hath regarded the low estate of His handmaiden: for behold, from henceforth all generations shall call me blessed. Luke 1, 46-48 (KJV)
Dec 14 Walking in Oneness: Christ and You–Rev. Miara Wiltshire
How exquisite is the stillness that reveals His nearness. For the Spirit of our Lord walks with us guiding our discovery of life's sacredness. Let us find that stillness, feel His nearness and welcome that which He brings. Behold! The Light of Christmas is in our midst.
Dec 21 (Christmas Retreat) Joy to the World, the Lord is Come!–Rev. Blake Isaac
If we desire a deepening understanding of Christmas as an inner experience, it calls for each of us to expand our understanding into the mystery of the Christ office. From Lord Maitreya to the first Christmas, we begin to sense the growing immensity of the one who came to fulfill the prophesies–Lord Emmanuel, the Living Christ. With great joy, the world sings out for the Lord has come.
The Art of Expressing Reverence
Through Spiritual Love May Christmas Come
---
Michaelmas Retreat 2014
Honoring the Angels
Let us commune with the reality of Angels, and be open to the purity, the wonder, the mystery and the almightiness of their God-given life and purpose.
Flower A. Newhouse
On the wings of Angels we are lifted following our Michaelmas Retreat experience this past weekend at Questhaven. The opening service Friday night beautifully prepared us for a higher awareness of the Angel Kingdom through words, music, dance, and a creative portrayal of souls, representing each of the seven rays, being awakened to their life purpose and guided by their Guardian Angels.
Participants had an opportunity on Saturday to explore a deeper connection with their own Guardian Angel as well as other Angels through activities, which included proprioceptive writing and creating mandalas, followed by sharing and lunch. In the afternoon there was time for deeper meditation and reflection as we gathered in the church for sacred silence interspersed with Flower's insights on the Angels set to uplifting music. The day concluded with a group labyrinth walk, followed by a sharing in the Academy.
Sunday's service was filled with the music of Angels through the handbell choir, the voice choir, the congregation, and a sacred dance. Four of our beautiful women ministers led the service with Rev. Myrna Triggs opening, and Rev. Lucy Wold, Rev. Elizabeth Wood, and Rev. Miara Wiltshire each sharing a different aspect to increase our Angel awareness. The retreat concluded with a potluck lunch that filled the Friendship House to overflowing with joy and fellowship as old friends reconnected and new friends were discovered in our ever-growing spiritual family.
Testimonials:
For me it was a gentle, soothing quiet weekend. I felt a wonderful feeling of peace after we played the bells on Friday. Randy's meditation (on Saturday) led me deeper into a tangible aspect of presence, so much so that I just wanted to sit and enjoy the feeling. There was a beautiful vibration throughout the grounds at Questhaven during this Michaelmas. I felt directed to the posted sayings about Angels on the grounds. A truly lovely experience, and you could feel the love and thought put into the music, dance, and guided activities. May our shared presence manifest as peace to all my brothers and sisters at Questhaven.
During the proprioceptive writing, I felt my Guardian come through strongly. As She directed me, my hand seemed to fly across the page and expression came freely and bountifully. I was so deeply touched by Her tender, warm and compassionate response to my inquiries. I experienced healing on many different levels. What a blessing it was! I am so grateful.
---
Masters Silent Retreat 2014
Honoring the Masters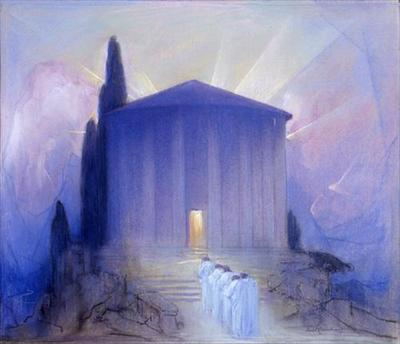 Practice the stilling of the entire self. You must command your body to be still, and your energies or nervous electrical impulses. Stillness, when commanded of the emotional nature, means restfulness and purity in that department. It is mental stillness which amounts to an emptying, a draining out your own thoughts where it is possible, which requires your greatest effort. When the mind is perfectly calm, and open and emptied of the negatives with which you might fill it, then it is a mirror for the soul to work upon and reflect through from its own superior height. You are attentive to the purpose of your concentrations. You will quiet yourself and liberate yourself in order that through emptying you can be filled from Our Wellsprings. The mind, therefore, will be in control of the whole man and yet will, as sentinel, point to the everlasting. There is a reason to be quiet and point to the everlasting. There is a reason to be quiet and attentive. The reason is attunement to the threshold of God Consciousness. Remind yourselves frequently of your reason and let the door open itself to release its power.
The Wise and The Strong
The Masters' Purpose and Blessing Through Questhaven
There is a purpose behind all evolving life that calls for refining and perfecting. It is a spiral journey leading to mastery. A wonderful reality dawns with the knowing that there are humans who have achieved such perfection over their lower vehicles and personality-selves. They work with our Lord Christ to awaken humanity to the presence of God. These Masters also work with spiritual groups in various ways to deepen and inspire their highest ideals to come forth. Let us explore Their impetus behind Questhaven, for this is Their Work.
Reverend Blake Isaac
Sharings from Attendees of the Masters' Silent Retreat
Each year the connection I feel with the Masters deepens. It was profound to read through my journals from previous years and see how true guidance really did come through for my life.
This retreat was an opportunity to go much deeper into oneself and connect to God through the wisdom of the Masters.
The whole weekend culminated in an inspired idea for a new direction to help release some old wounds for which I am deeply grateful.
---
Vernal Retreat 2014
Exploring Diving Beauty in Nature and Art
Take in everything before you and let your eyes be drenched with beauty, and as you love beauty in a reverent way it becomes a sacrament to you.
Flower A. Newhouse
A weekend of experiential events to increase our awareness of Beauty as an aspect of the Divine is an ideal preparation for our summer travels, both outwardly and inwardly.
June 20 – Church of the Holy Quest
A unique meditative tour to the inner side of Earth's mountain regions as clairvoyantly observed by Flower Newhouse. Richard Boult, devoted student of Flower's and a well-traveled lover of nature, led us on this holy trek, followed by an inspired sacred dance by Questhaven's Temple Dancers.
June 22 – Church of the Holy Quest
The retreat concluded with our Sunday devotional service and a summarizing talk, "Reflections of Divine Reality–A Sampling of Beauty Expressed" by Rev. Jonathan Wiltshire. Service included inspired gathering of music, art and reverent adoration of the Most High.
Reflections of Divine Reality: A Sampling of Beauty Expressed